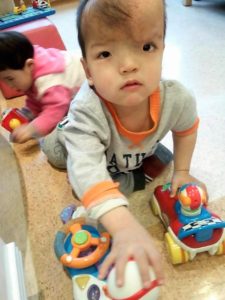 We got Allen's update today, and it is perfection!  My initial reaction to reading it was ˜Thank God.  He's loved.'  The care and detail that went into his update, you can tell it was written from a place of great love for this child.  And the icing on the cake?  Hearing how amazing Allen is!  
He may look a but different, but it clearly isn't holding him back!  What this boy has overcome, to how he is now, is nothing short of phenomenal.
From the first question:
How is his mental ability compared to peers the same age?  He is very smart.
To the next:
Please describe his personality in details.  He is very happy and smart. He is easygoing and very extroverted.
To the added detail, very uncommon in these updates:
How is his emotional development? Is the child attached to anyone? Who is he close to? Does he care for other people?  He will be close to people who are nice to him, not a particular person. He cares for kids younger than him. He shares with other kids.
Is he well behaved and obedient? He is very obedient and well behaved. Once, he was taken to the hospital for exam. The doctor required that he could not eat or drink from morning to afternoon. In the hospital, the nanny told him the exam was for the purpose to fix his head and he needed to cooperate. The other kids were eating and he would not even look at them eating. He just stayed quietly with the caretaker for long time, not cranky at all.
He is loved. 
You can read it in his update seeing the extra care his nanny took to make sure we all knew what a good, smart, caring, loving boy he is.  While we all know he would do best in a family, the nannies filling in the gap until that happens are crucial.  His nannies are able to look past his deformities, and love him for who he is.  Now we just need to find his family who will do the same!
---
Allen is 2 1/2 years old and is available for adoption through Madison Adoption Associates.  There is a $2,000 grant available for the family who adopts him.  Email sarah@madisonadoption.org for more information.