Your bellies are full, and your hearts are thankful.  Ours are too –  thankful for you all, for all of our families, and especially for the four Angels in Adoption that we have introduced you to over the past month.  In case you missed it, we are so excited to be raising money for these four special families on Giving Tuesday.
Four MAA Families who have endured the unthinkable.  Four MAA Families who knew the risks, and said Yes regardless, because it meant a Yes for their child.  These four families have been to the brink, and are all still working their way back.  Their days are filled with medical appointments, surgeries, unknowns, heartache, worry, but ultimately, joy.  So.much.joy despite the hard.  Despite being in the trenches.  So, it is for these Four MAA Angels in Adoption that we are reaching out to you.  Our dream is to shower them with love, and gratitude, and support.  They have poured out their hearts and souls into their children, and it's time to pour into them.  Their lives have been turned completely upside-down due to the intense medical needs of their children.  So, we want to just do a little something to say, œWe see you.  We notice you.  We love you.  Whether it's a Target gift card to help with the holidays, or a much needed night out for Mom and Dad, our goal is simple to give just a little something to four MAA Angels in Adoption who continue to give their everything, day in and day out.
As we introduce you to our final Angel in Adoption, we thank you for 'meeting' these four special families – for reading their stories, and holding them in your hearts.  As we have shared about them with you, our hope is that you will share what you can with them.  And because we are so dedicated to this, we, too, are going to share.  We will match your donations for each family.*
Last week you met the Pitts family, and their daughter Clara.
Our final Angel in Adoption who we want to shower with love on Giving Tuesday is the Taylor family¦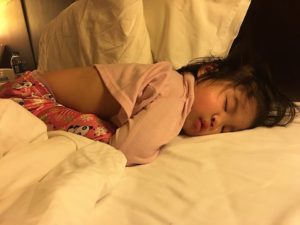 Our journey to Everly took 613 days, but God had a hand in it all.  Back in 2015, a friend, who worked at New Hope Foster Home outside of Beijing, told us there was a spunky little girl who needed a home.  So after years of praying about it, we started the adoption process.  The paperwork, the files, the logistics, all of it seemed endless, but God had such a plan for our family.  In November of 2017, we traveled to China, with our older daughter, Lorelai, to get Everly.  We fell in love with her instantly and our whirlwind trip went relatively smoothly.  We brought her home on December 1st, and the entire family was smitten with our sweet little girl.
Upon settling into family life and getting a grasp on her health condition, we found out she had a large brain tumor which we were completely blindsided by.  We knew she had Epilepsy when we adopted her, but we were shocked to hear she was likely born with a brain tumor that had gone undetected for 4.5 years.  Living close to the Children's Hospital of Philadelphia (CHOP), we knew we were surrounded by world-class doctors.  In May of 2018 she underwent a partial tumor resection of her brain.  She is the strongest little girl we have ever met, and she recovered from her surgery like a champ.  Since some of her tumor is inoperable, Everly is currently undergoing a year of weekly chemotherapy treatments in hopes of stunting the growth of the remaining tumor.  She has her
CHOP nurses and doctors amazed at her strength and resiliency, and we are amazed at the growth and development she has made this past year.  She's currently in part-day preschool and is learning so much, despite being in weekly treatments which cause her some nausea and fatigue a few days a week.
Everly's brothers and sister love her to pieces and we are so thankful for our amazing community of friends and family who pray for her and root for her constantly.  We know God had a plan for this little girl when He brought her home to us, and He used her to put a smile on so many people's faces.  We are so thankful to Madison Adoption Associates for helping us bring her home.

Thank you, Melanie and Joe, for sharing your family's journey with us.  You are in our thoughts and prayers!
---
While our goal is to raise funds on Giving Tuesday (November 27), we welcome you to make your donation whenever you feel so moved between now and then.  You can donate directly on our website, or send a check to:
1102 Society Drive
Claymont, DE 19703
100% of donations will go towards the Taylor Family, and our other three Angels in Adoption.  Please specify on your donation that it is for Giving Tuesday.
*MAA will match donations up to $4,000
THANK YOU!!!